System
The System menu provides useful information about the status of Eggplant DAI services, logs, and connected agents. To access the System menu, click the system

menu in the left side.
Status
View the status of your Eggplant DAI services and the agents that are connected to this Eggplant DAI server.
New Feature: The Status tab is available from Eggplant DAI 4.2.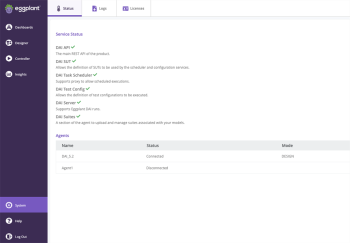 You can view the status of the following services:
Service Status
Used to..
DAI API

Connect to Eggplant DAI API, which is the main API of the product.

DAI SUT

Define SUTs to be used by the scheduler and configuration services.

DAI Task Scheduler

Run scheduled executions.

DAI Test Config

Define test configurations that need to be executed.

DAI Server

Support Eggplant DAI runs.

DAI Suites

Upload and manage suites associated with your models.

Agents

View all the connected

Eggplant DAI

agents that are active. Note that when the agents turn inactive, the status will change to disconnected.
Logs
Use the Logs tab to extract server logs for sending to Eggplant Support for troubleshooting. To download your server logs, click the Download button in the Logs tab, which then downloads a zip file of the whole directory in the Downloads folder of your browser.
Note:
Only an administrator can download logs.