Updating Eggbox and Related
Eggplant

Applications

Both the Eggbox Control Center and all related products need to be updated periodically.
Updating the Eggbox Control Center
By default, the Eggbox Control Center is set to automatically check for updates. You can check for updates at any time under the Eggbox menu by selecting Check for Updates.
Updating
Eggplant

Applications on Eggbox

Eggbox Control Center provides an interface for you to manage the Eggplant products installed on your Eggbox. This does not include related applications such as Xcode.

If a newer release is available for one of your installed applications, the button to the right of that application will say "Update". The Eggbox Control Center will check for updates to these applications every 24 hours.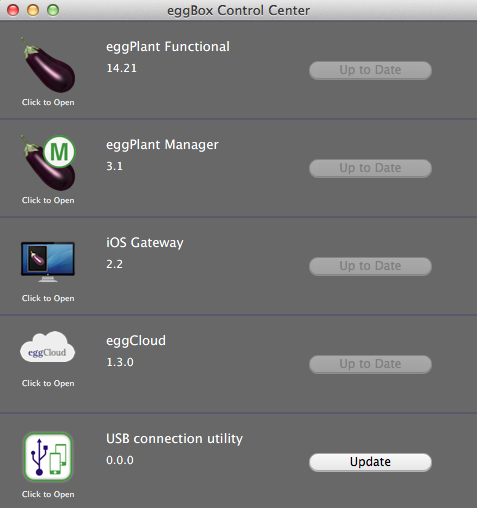 Click the "Update" button to the right of that application to install the latest version. You will not need to re-license the application unless your current license is expired.
The version number shown below any of the products listed in the Eggbox Control Center is the version of the application that is currently installed.