Mobile App Management in
Eggplant Automation Cloud
Users with Administrator privileges can manage mobile apps in Eggplant Automation Cloud from the Admin menu. You can use this feature to install apps on your mobile device SUTs before you run your tests.
Before you can install an app, you need to add the app to the App Management page, which you access at Admin > App Management.
Note:
Only users with the Administrator role can see and access the
Admin
menu.
Step by Step: Add Apps in
Eggplant Automation Cloud
Go to

Admin > App Management

.
Click

New App

.

In the

New App

window, enter information about your app. Note that you can add app files for Android, for iOS, or for both when setting up your app.

Name:

Enter a name for the app here.

Version:

Specify a version number or name for the app. (Optional)

Android App:

Click

Choose File

to select a .apk file for Android use.

iOS App:

Click

Choose File

to select a .ipa file for iOS use.

iOS Profile:

Click

Choose File

to select your iOS development profile.

iOS Certificate:

If you're adding an iOS app, you'll need your developer certificate information. Copy and paste this from Keychain Access.

Description:

Enter information about your app here. (Optional)

Click

Create

to save the app.
Apps Management in Reservations
When you have an active reservation, you can view all the apps loaded on a connected SUT in the Reservation Info window in Eggplant Automation Cloud. You can also install apps on the SUT from this window.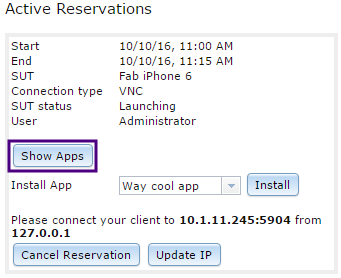 Click Show Apps to display a list of apps. Note that you can uninstall apps from this list, as well. Click Uninstall, then click Confirm in the Confirm Uninstall window.