Using Release Advisor in
Eggplant Automation Cloud
Release Advisor is a tool available with an Eggplant Automation Cloud license that provides information on upcoming operating system and browser releases.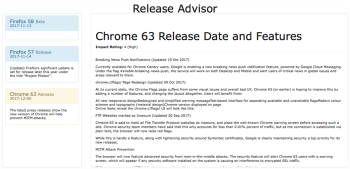 The Release Advisor screen in Eggplant Automation Cloud.
The list of releases at the left of the Release Advisor screen is color-coded by impact rating, a scale of 1 to 5 for how much of impact a given update might have on applications that run on that platform. The lowest impact is blue, or an impact rating of 1 or 2. Yellow is medium impact, or an impact rating of 3 or 4. Red is high impact, or an impact rating of 5.
To open Release Advisor:
Go to

Tools > Release Advisor

from the main menu. Release Advisor opens in the main window.
Click on an article link from the left column.
The article opens in the center panel.
When you load Release Advisor, the most recent information about new releases displays.