Using the Command Window in
Eggplant Manual
The primary use for Eggplant Manual is manual testing. However, if you need to test behaviors on a system under test (SUT) that can't be replicated manually, such as getting device information, you can enter script commands using the Command Window.
To open the window, go to Window > Command Window.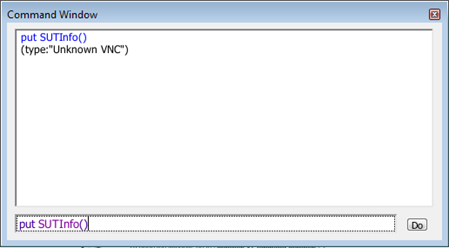 The Command Window in Eggplant Manual
Enter desired SenseTalk commands or functions in the text field and click Do. Results display in the upper portion of the window.
Note:
Pressing Enter in the Command Window will execute the code. To add additional lines of code, type Alt+Enter for Windows and Linux or Option+Enter for Mac.
To scroll through code you've entered, type Alt + the up or down arrow keys on Windows and Linux or Option + the up or down arrow keys on Mac.