Connection Preferences
These Eggplant Functional preferences pertain to VNC connections and communication.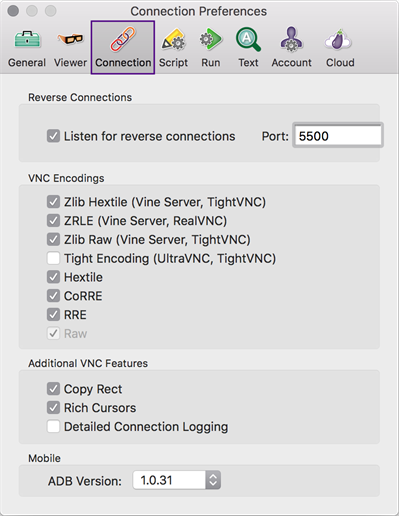 Reverse Connections(逆接続)
Listen for reverse connections: Select this checkbox to allow SUTs to initiate VNC connections with the local computer running Eggplant Functional.
VNCエンコード
これは、VNC接続によるデータ転送によく使われるエンコードのリストです。The encodings appear in order from most compressed to least compressed, and Eggplant Functional always starts at the top of the list and attempts to use the most compressed encoding available.
ほとんどのコンピュータは最速の(最も圧縮された)エンコードを利用すると最良のVNCパフォーマンスを経験しますが、接続速度よりプロセッサがデータを解凍し引き出す能力のほうが憂慮され制限すべきである場合は、より圧縮されたエンコードの利用を無効にできます。
Tight Encoding, which is not selected by default, is useful for very slow connections. Note that using this type of compression can make image matching less reliable in Eggplant Functional.
追加のVNC機能
Copy Rect(Rectをコピーする):変更されたSUTの部分のみを再描画してViewer(ビューア)ウィンドウがより速くアップデートされるようにします。
Rich Cursors(リッチカーソル):カーソルアップデートを再描画カーソルではなく画面ロケーションとして受信してViewer(ビューア)ウィンドウがより速くアップデートされるようにします。
Detailed Connection Logging(詳細接続ロギング):トラブルシューティング目的で接続中に一部の追加情報をログします。Macでは本情報はコンソールに記録されます。On Windows this information is recorded in the Windows Event Viewer.
モバイル
ADB Version: Select the Android Debug Bridge (ADB) version that Eggplant Functional will use. 一度に実行できるADBバージョンは1つのみです。Note that newer Android devices typically require version 1.0.32 or later to take advantage of Eggplant Functional's built-in VNC server.