Eggplant Automation Cloud

User Account Settings

You can change account settings in Eggplant Automation Cloud on the My Profile page. This page is where you can update your email address and change your Eggplant Automation Cloud password. You access the My Profile page from the menu by selecting Account > Account Settings.

Note that the My Profile page displays the same information for both the Administrator role and the Tester role.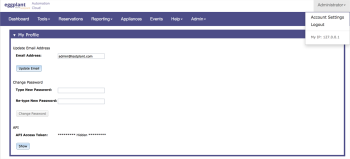 Update Email Address
The Email Address field displays the user's current email address. To update this information, make any necessary edits in the field, then click Update Email.
Change Password
To change your password for Eggplant Automation Cloud, enter an identical password in both fields provided. If the password doesn't match, you'll see an authentication error and you won't be able to proceed. Click Change Password to complete the password change.