Connecting to
Eggplant Automation Cloud

SUTs from Other Testing Tools

You can use tools other than Eggplant Functional, Eggplant Manual, or Eggplant Manager to connect to systems under test (SUTs) in Eggplant Automation Cloud. For instance, you might want to connect with Selenium or Appium.

To connect to SUTs in Eggplant Automation Cloud from another testing tool, you must first follow the steps to add test systems in Eggplant Automation Cloud and then create a reservation for that SUT in Eggplant Automation Cloud.

When you have added the SUT and created a reservation, you can create a connection to that SUT from your chosen tool.

In that tool, enter the IP address and port that Eggplant Automation Cloud has provided for the device. This information is visible on the Eggplant Automation Cloud Dashboard page. In the example below, the IP address is 10.0.0.106 and the port is 5903.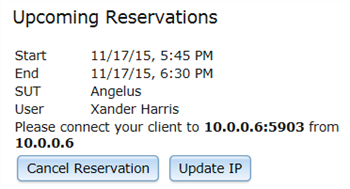 Note that only the machine where the reservation was made from (in this case, 10.0.0.106) will be able to connect to the SUT. However, if you need to connect from a different machine, you can perform the following steps to make that possible:
Connect to the

Eggplant Automation Cloud

web interface from machine you want to use for this reservation.
On the

Eggplant Automation Cloud

Dashboard page, find the reservation in either the

Active Reservations

or

Upcoming Reservations

section.
Click

Update IP

to change the IP address of the reservation to the current machine. You'll see the IP address change on the Reservations view and you'll be able to connect from the new location.
Note that you can also get to the Update IP button on the Reservations page by right-clicking the appropriate reservation to open the Reservation Info window.