Working with imported Test Run Data in Eggplant Performance Analyzer
Eggplant Performance Analyzer takes raw test run results from Test Controller and transforms that data so that you can visually interpret the results. You use the Create an Analysis View wizard to create an analysis view, which contains the charts (or tables) you've selected for the test run.
The wizard offers various configuration options to help you customize the analysis view. In fact, you can create multiple different analysis views from the same original test run results.
Selecting a Test Run for Analysis​
Eggplant Performance Analyzer displays your test run results in the Project tree. The first top-level node within the Project tree is a folder for Test Runs. Within the Test Runs folder, you'll find a node for each test run series, and below each test run series, the individual test runs are listed. Each test run name takes the form <test_name>.<run_number>.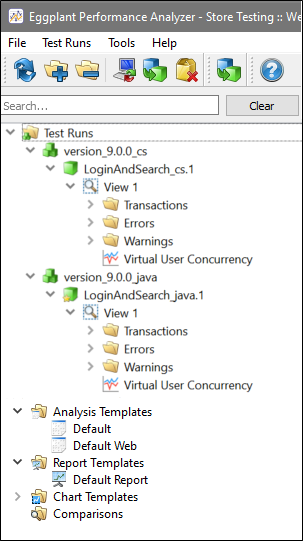 The Eggplant Performance Analyzer Project tree
note
Eggplant Performance Analyzer works with data that's been created with Eggplant Performance Studio and Test Controller; it does not create the data. If you have raw test data that isn't showing in Analyzer, you might need to select a different workspace or project or import the test run data. Use the buttons on the toolbar to perform these actions.
To help you determine which test runs to analyze, you can view the summary details of each test run. If you select the test run series in the Project tree, the Viewer pane lists brief details for all test runs in the series, including whether the test completed, the start and end times, and the duration of the test.
If you select a specific test run in the Project tree, the Viewer pane provides more detailed information about that test run. The summary information for the test appears at the top of the Viewer pane. At the bottom, you'll find tabs where you can view test run results data, including number of transactions, number of errors and warnings, and so forth. On the additional tabs, you can find information about the original settings for this test, including virtual user (VU) group information and the injectors used.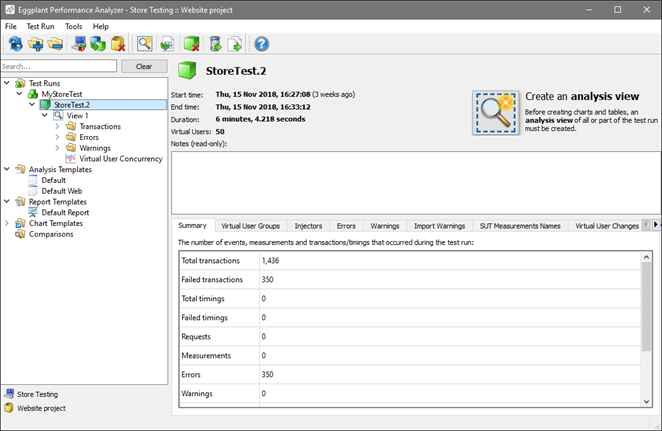 Viewing summary information for a test run in Analyzer
When you have selected a test run, you're ready to create an analysis view of your data. See Creating an Analysis View in Eggplant Performance Analyzer for information about creating analysis views.