During the connection test, the Add Monitors wizard also checks to see which measurements are available on the monitoring target. Some measurements require an instance to be selected. For example, measurements in the Network Interface category require the name of a network interface which exists on the monitoring target machine (such as Intel[R] 82574L Gigabit Network Connection).
The Select instances to monitor page of the Add Monitors wizard appears: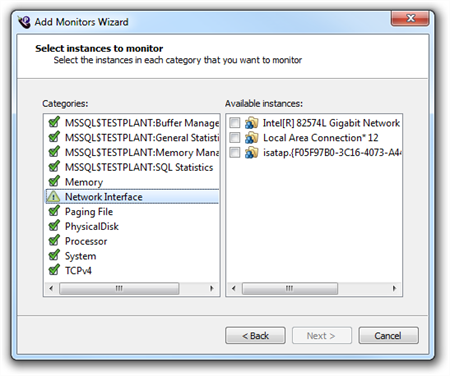 Listed here are the categories of the measurements included in the measurement templates you selected. Each category is marked with an icon:
The measurement category doesn't require an instance name; no further action needed.
The measurement category requires an instance name. In the Available instances list, select one or more check boxes.
The measurement category could not be found on the monitoring target. When Next is clicked, this category and any measurements within it will be removed automatically.
If there are more monitoring profiles to configure, the next wizard page will be Connection settings again. Otherwise, a summary page will be shown. Click Finish to apply the changes listed in the summary page.