Select Measurement Templates
If you are creating a new monitoring target, then this page will follow the Create a monitoring target page in the Add Monitors wizard. Otherwise, the Add Monitors wizard can be launched by any of the following methods:
In the Workspace tree, right-click on a monitoring target item, and then click Add Monitors.

OR in the Workspace tree, right-click a monitoring profile item, and then click Add Monitors.

OR in the Monitoring Profile view, under Measurements, click Add from template.
The Select Measurement Templates page of the Add Monitors wizard appears: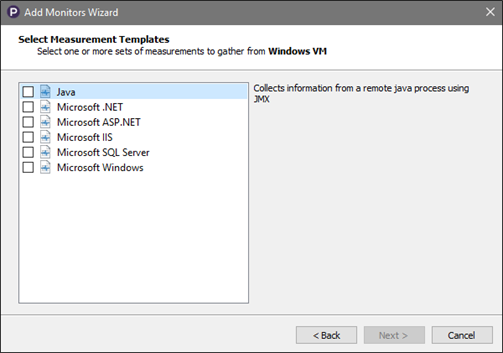 On this page you can select one or more measurement templates. Each measurement template contains a number of measurements that are useful for monitoring a particular type of system. These provide a good starting point - more measurements can be added later if needed as described in Adding extra measurements.
The list of measurement templates is filtered based on:
The operating system of the monitoring target (e.g., you can't choose the Microsoft .NET measurement template for a monitoring target that runs Linux).
The selected monitoring profile, if you launched the Add Monitors wizard from a monitoring profile item in the Workspace tree or a Monitoring Profile view (e.g., you can't add the Microsoft Windows measurement template to a JMX monitoring profile, even if the monitoring target runs Windows).