This is the first page which appears in the Create a New Recording wizard after the Choose a recorder page.
The Eggplant Network Recorder works by analyzing network traffic passing through a particular network interface.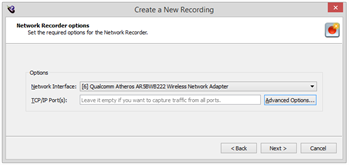 Choose a Network Interface on which to capture packets.
If you know the TCP/IP Port(s) on which your application communicates, then you can enter them. This will reduce the size of the recording, because the Eggplant Network Recorder will only capture traffic on those ports.
There are also Advanced Options.