Creating Injector Virtual Machines
With Public Cloud injector families, you can either:
Create new virtual machines (VMs) to serve as injectors, as described on this page
There are several ways to create new VMs to serve as injectors in Eggplant Performance Studio:
In the Create an Injector Family wizard, select the Create and add new injector virtual machines checkbox.
In the workspace tree, right-click the injector family you want to add injectors to and select Create Cloud Injector(s).
With an injector family selected in the workspace tree, select Injector Family > Create Cloud Injector(s) from the menu or click the Create Cloud Injector(s) button on the Studio toolbar.
With an injector family selected in the workspace tree, click the Create Cloud Injector(s) button in the injector section of the Studio window.
All of these methods open the Create cloud injectors dialog box.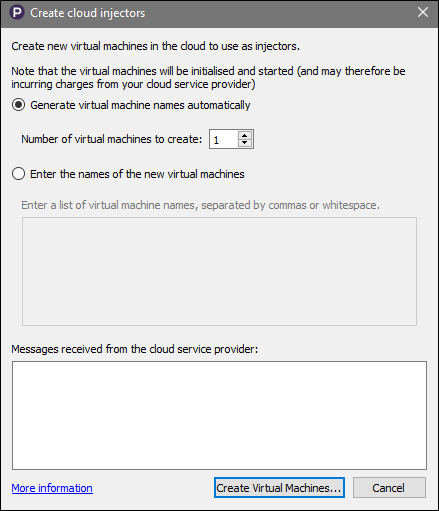 Create Cloud Injectors Dialog​
Based on the stored credentials and VM image for this injector family, Create cloud injectors creates virtual instances on your cloud provider.
note
When these instances are first created, they are put into a started or running state, and might be incurring charges from your cloud service provider.
You have two basic options for creating new VMs on the Create Cloud Injectors dialog box:
Generate virtual machine names automatically: Choose this option to assign or change names later. You can also set the number of VMs you want to create, with 1 as the default.
Enter the names of the new virtual machines: Choose this option if you want to provide names now. Enter the names in the provided box, separated by commas or white space.
Click Generate Virtual Machines when you are ready to proceed. The newly created VMs show up in the injector list at the bottom of the Studio window.
Initially, any new VMs show a cloud VM status of Pending because it can take several minutes to fully provision the new VM in your cloud environment.
This process creates new, running instances in your cloud virtual environment. You can start, stop, and reboot your VMs directly through Studio, and you can access your full range of management options through your cloud provider management console.
For more information about managing cloud VMs with Studio, see Managing Cloud Injectors.